2014 Tournaments
2014 IN PHOTOS
We have photos from lots of events from 2014 for your enjoyment, including
Spring Meeting and Rules Seminar.
One Day Stroke Play at Ivanhoe.
One Day Stroke Winners
Better Ball Winners
Championship Winners
Championship Day 1
Championship Day 2
Championship Day 3
CHAMPIONSHIP SLIDE SHOW!
And Four Ball Winners:
Tournament of Team Champions
Central
,
Northeast
,
Northwest
,
South
, and
West
83rd ANNUAL CWDGA CHAMPIONSHIP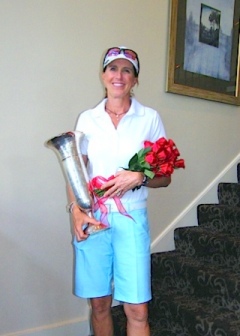 SARAH BOOCKFORD, 2014 CHAMPION
A very thrilled and happy Sarah Boockford of Glen Oak Country Club is the winner of the 83rd Annual Championship of the Chicago Women's District Golf Association.
Glen Oak Country Club was the host for this year's Championship which was conducted under ideal conditions. Three days of fast greens and strong competition tested the players, who were also treated to wonderful food and attentive hospitality.
For a more detailed article on Wednesday play, click
here.
Also, click for
Photo Results
for all flights and the final
Match Play Tree
.
ONE DAY STROKE PLAY RESULTS
This year's One Day Stroke Play was held at Ivanhoe during intermittent rain and drizzle. Undeterred, 72 indomitable golfers completed the very beautiful, challenging and wet course. Our congratulations to all who finished. Complete results can be found
here.
BETTER BALL RESULTS
It was a beautiful day to play golf if you don't mind a 2 club wind. It was sunny and cool and the Prestwick golf course was in excellent condition. Results were tightly grouped and many ties were broken following the USGA scorecard playoff procedure. Complete results can be found
here.
TOURNAMENT OF TEAM CHAMPIONS
The Tournament of Team Champions was played under ideal conditions at Butterfield with a full field. The Overall winners are shown in this
printable photo results
SENIOR BETTER BALL WASHED OUT
The Senior Better-Ball of Pairs tournament at Westmoreland Country Club was scheduled for Wednesday, September 10. Unfortunately, the event had to be canceled due to torrential rainstorms in the morning. Because this event is so late in the season, there is not sufficient time to reschedule this event. Everyone will be receiving refunds of their entry fees. Please try again next year.