2013 Tournaments
Results of all 2013 Competitions are accessible from this page. Click here for
Championship
Better Ball of Pairs
One Day Stroke Play
Senior Better Ball
Four Ball Team Play
Tournament of Team Champions



82nd Annual Championship, Lake Shore Country Club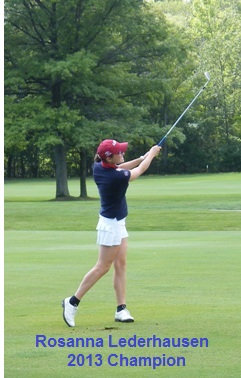 This year's championship was held at Lake Shore Country Club from August 13 to 15. Conditions were ideal. The golf course was in excellent condition providing a fair but challenging test . The staff at Lake Shore was most welcoming. And the weather was superb for golf.
This event is a singles match play format. Play on Tuesday and Wednesday set the stage for the final competitions. Thursday morning pitted two Past Champions Jessica Lederhausen of Northmoor (2007) and Char McLear of McHenry (1975) in the semi final bracket. Jessica Lederhausen won that match in 16 holes, 3 & 2. Her daughter, Rosanna Lederhausen of Northmoor defeated Kelly Muskat of Crystal Lake 2 and 1 setting the stage for an all Lederhausen final match.
The finals began on the first tee with a quick hug and kiss and shared words of encouragement. Rosanna won the first hole and then drove through the trees on the right on the par 4 second hole. After a great recovery to the front edge of the green, Rosanna two putted from the fringe to save par and go up 2. Rosanna then birdied 3 and 4 and made par on 5 to go up 5. To complete the run up Rosanna birdied 7 to go up 6. Jessica battled back winning 9 with a great pitch to within 8' of the cup and then stiffing an iron to the flag on 12 to birdie that hole, too. They halved out to end the match on the 15th green, Rosanna up 4 and 3. The match ended as it began, with a hug, a kiss and words of support.
Rosanna is entering Brown University in the fall and will play on the women's golf team there. She credits her High School team experience with teaching her patience and giving her the freedom to develop her competition skills. She has also competed on the national stage in AJGA and US Girls events.
For Jessica, the final round against her daughter was a mental challenge. Medal play would have been easier, but in match play, where opponents play hole by hole, she kept looking up and seeing "Oh, that's my cute daughter." So she tried not to look. Jessica's three daughters and son are all very talented competition golfers and her advice to parents hoping to develop their children's interest in the game: make it fun. And never ask your daughters if they want to play. Just bring them along.
Elsewhere in the field, Gay Crain (Boulder Ridge) won the Championship Consolation bracket. Winners by flighets were: 1st flight, Denise Radek (Medinah); 2nd Flight, Betty Weinstein (Lake Shore); 3rd Flight, Rebecca Smith (Oak Park); 4th Flight Mary Warren (Butterfield); 5th Flight, Vicki Lee (Sunset Ridge); 6th Flight, Pam Strobel (Lake Shore)
To see all the winners, click here. For more details on the results of the 82 matches that were completed in this tournament, click on Match Play Tree. There are also many more photos from Day 1, Day 2, Day 3, Winners and a slideshow.
SENIOR BETTER BALL WINNERS ANNOUNCED
Kathy Ryan-Peters and Jean Wiegel of Beverly Country Club won the overall honors at the Senior Better Ball Tournament held at Northmoor Country Club on September 11. The weather was great for golf, the course was in pristine condition and the lunch was excellent for which we can thank our hosts at Northmoor. To see the winners and results for the entire field, click on
Results
or click on
Slide Show
to see a overview of the entire day.
.
ONE DAY STROKE PLAY COMPLETED IN AUGUST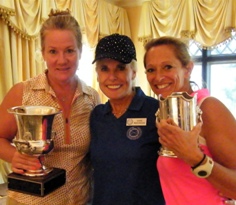 Ellen Rehm, Low Gross Winner, Diane Mazurczak, Tournament Director and Martha Glass, Low Net Winner

Butterfield Country Club very graciously arranged for a rain date after this tournament was rained out in May. The replacement date in August was a beautiful golf day, a warm and overcast day with no wind, just a very hard golf course. Ellen Rehm of Butterfield was the Overall Low Gross Winner and Martha Glass of Briarwood won Low Net. For complete results, click
here.
.
BETTER BALL OF PAIRS RESULTS
The Better Ball of Pairs was held on a gorgeous day on the rolling hills of the Geneva National Golf Club. Despite the difficulty of the course, two teams emerged with the same score of 60 and both were awarded first place:
Jayne Farago, Edgewood Valley & Karen Straub, Edgewood Valley
Lisa Shank, Geneva National & Sue Leineberg, McHenry

The event was further enlivened by Dawn Puch's Hole-in-One.
Click here for
Printable Results in Text
or
Printable Results with Photos
or
more photos.
FOUR BALL TEAM PLAY RESULTS
To see the smiling victors, click on
Four-Ball Winners

.
TOURNAMENT OF TEAM CHAMPIONS
This season finale to the four-ball matches was played at Hawthorne Woods on September 13. Click for the final
results.