2012 Tournament Recap
NEW 2012 CHAMPION CROWNED AT INVERNESS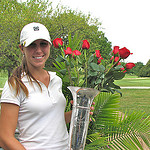 2012 Champion, Samantha Postillion
Samantha Postillion, of Ruth Lake, won this year's CWDGA Championship.defeating Alyssa Gaudio 5 & 4. The University of Illinois gofler was last year's Runner Up and follows in her mother's footsteps as a CWDGA Champion, Alyssa Gaudio,of Edgewood Valley, made it into the final match by defeating Kate Johnson of Elgin 4 and 2. Click here for complete
Final Results.
And we have photos. Lots of photos! Click for Monday, Tuesday, Wednesday, and Winners.
How about this shot by Rachel Oberheide of Medinah from the pond on the 8th hole? Rachel made the green,but lost the Championship Consolation to Leslie Page of Itasca in a match that went 23 holes.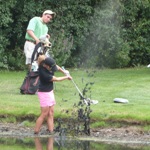 TOURNAMENT OF TEAM CHAMPIONS
Thursday, September 13th
Hawthorn Woods

The CWDGA Four-Ball Match Play schedule creates competition among seventy clubs divided into five sections of five or six divisions, depending on size. Winners are determined based on accumulated points for the season. At season's end, those winners compete for the overall championship of their division in this tournament. The format of this playoff is Four-Ball Stroke Play, with the net better-ball of each team against the net better-ball of the other teams in their division. Each team consists of two players submitted from the winning teams. This tournament, called the Tournament of Team Champions, is the ultimate conclusion of the season.
The Eighth Annual Tournament of Team Champions was held at Hawthorn Woods Country Club on September 13th, the first really chilly day of Fall. The field contended with immanent rains, winds and extremely fast greens. Many thanks for Hawthorne Woods for their hospitality and the conditioning of their course.
The quality of play lived up to expectations as the best of the best contended for Champion of Champions status. The winners are pictured below.


Winners at the 2012 Tournament of Team Champions
1st Division: Sandy Prisby and Cassie Lawton of Ruth Lake
2nd Division: Mary Kaye Knowles and Debbie Radakovich of Joliet
3rd Division: Betsy Mclinden and Mindy Munson of Indian Hill
4th Division: Jill Markowski and Bette Fredericks of Inverness


SENIOR BETTER BALL OF PAIRS
Thursday, September 20, 2012
Midlothian Country Club



Winners Pam VanBoven of Itasca and Carol Goeringer of Inverness

Fifty five teams entered this year's Senior Better Ball of Pairs Tournament at Midlothian. The host club did great job of welcoming all of us on a sunny fall day to their historic golf course.
The overall winners, Carol Goeringer of Inverness and Pam VanBoven of Itasca, had a combined better ball score of 65 and will have their names engraved on the Senior Better Ball Trophy that is displayed at Golf House. Congratulations to all of the Flight winners listed in the
Results Summary
Click to see
more photos
BETTER BALL OF PAIRS
Thursday, June 28th
Twin Orchard Country Club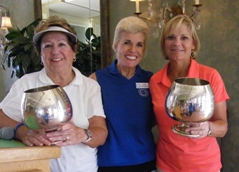 Winners Joan Wert (left) and Nancy Sullivan (right)
with Tournament Chair Diane Mazurczak (center)
Record heat did not deter the participants in the Better Ball of Pairs from appreciating the very pretty layout at Twin Orchard. The course was in excellent shape with pristine fairways, great bunkering and gorgeous flowers. This was a wonderful venue.
The overall winners, Nancy Sullivan of Butterfield and Joan Wert of Riverside, had a combined better ball score of 64 and will have their names engraved on the Better Ball Trophies that are displayed at Golf House. Congratulations to all of the Flight winners listed in the
Results Summary
.
Click to see
more photos
ONE DAY STROKE PLAY
Wednesday, May 30
Evanston Golf Club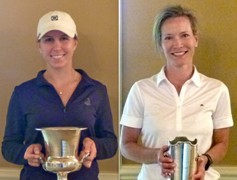 Samantha Postillion, Low Gross
Lorri Gerdeman, Low Net
Congratulations to the winners of the One Day Stroke Play Tournament held on May 30th at Evanston Country Club. Samantha Postillion of Ruth Lake, posted a score of 73 to win Low Gross in a score card tie breaker with Tanya Olson of Naperville who was awarded Second Place. Lorri Gerdeman from the host club won Low Net with a 65.
Many thanks to Evanston Country Club for hosting us on such a beautiful day. We were warmly welcomed by both members and staff. Everyone, players and CWDGA volunteers, had a great day.
Click on
results
to see more results or click on
photos
to see more photos.