86th Annual CWDGA ChampionshipReena Sulkar, Champion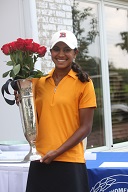 A very thrilled and happy Reena Sulkar is the winner of the 86th Annual Championship of the Chicago Women's District Golf Association. Reena is an incoming freshman at the University of Illinois where she is enrolled in the Medical School and will play on the Illini Women's golf team.
St Charles Country Club was the host for this year's Championship which was conducted under ideal conditions. This year we enjoyed three days of a beautiful golf course, strong competition, wonderful food and attentive hospitality.
Here are the details from the competition:
Results Day 1
First Tee Videos Day 1
Results Tuesday Morning and Afternoon
Results Wednesday
Complete Results
Wednesday Photos
We hope to see you all again next year.